Women's Health Services
Patient-Centered Care That Matters
Caring For the Physical and Emotional Well-Being of All Women
Care For Broward County's Women
Women's health is an important sub-specialty of medical care treatment and services focused on female-specific issues including sexual health and family planning, cancer screening, hormone therapy, and disease management for those conditions that disproportionately affect women or affect them differently. At Priority Health Center, we are proud to offer a wide range of services to the women and girls of Fort Lauderdale. From contraceptive prescriptions to bladder care and everything in between, we've got you covered. Schedule your women's services today.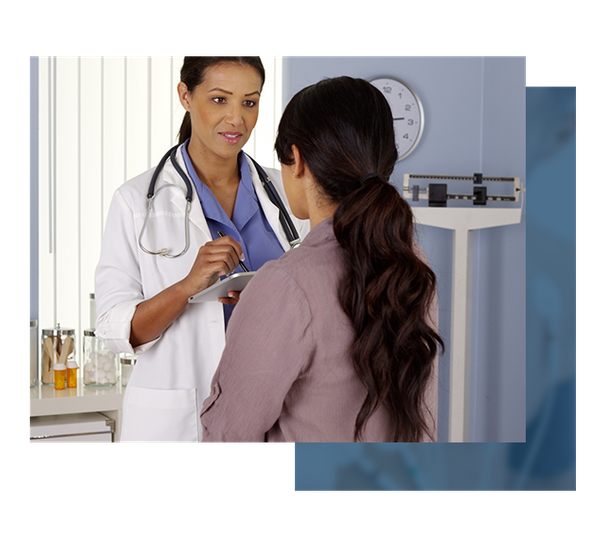 Our patient-centered care services include:
Cancer screenings - Pap Smears, Breast Exams, Mammogram

Birth control and family planning

Menopause and hormone therapy treatment

Sexual health and STD testing and treatment

Osteoporosis prevention, diagnosis, and treatment

Chronic disease management

Healthy weight management

Preconception, pregnancy, and postpartum health

Provide maternal, infant, and child health
Women's Health Medical Services
Women's health is important for the protection of the entire family and community. From routine wellness exams, contraception, and cancer screenings, to more comprehensive treatment that includes infertility diagnosis and treatment, STD/STI diagnosis and treatment, mental health, and family planning needs, we are here for you. In addition to treating all of your acute injury or illness, and chronic diseases, we also manage all of your women's health needs. As part of a global initiative to implement earlier health interventions for women and girls, Priority Health Center is here for Fort Lauderdale's women. Where our services are limited, we partner with local providers for continuity of care and to ensure our patients have access to all of the resources they need to improve their health and overall wellbeing.
Schedule your appointment today.
CDC Cervical Cancer Screening Information CDC Cervical Cancer Screening Information
A Lifetime of Coordinated Care
At Priority Health Center, our providers are dedicated to caring for post-menopausal women and providing the care for issues that come with aging including hormone replacement, urinary incontinence treatment, and prevention and treatment of osteoporosis. The aging woman is subject to many preventable health threats including increased risk of heart disease, glaucoma, and dementia. We are here to help mitigate the risks and keep you living your best life for years to come.
Early detection is the key to cancer survival. Cancers that affect women and require routine screening including cervical, ovarian, breast, and colorectal cancers. By providing access to affordable screening and diagnostic services for women of all ages, we are protecting our communities from the burden of cancer. Screening and diagnostic tests include Pap Smears, breast exams and Mammogram, and colonoscopies, along with bone density scans and routine lab work. While the CDC offers recommended screening intervals, those at a higher risk should be screened more frequently. Discuss your concerns and risks with your women's health primary care provider today.
Additional Women's Health Resources